Office & Apartments
Boomerang is the Bay Area's affordable, dependable, high quality dry cleaning delivery service for apartment complexes and corporate offices from San Francisco to San Jose.
Our family-owned businesses been providing the highest levels of quality and service since 1960. Today we specialize in dry cleaning, laundry, wash and fold, and alterations and offer free pick up and delivery on all orders!
Take advantage of our experience and expertise along with the finest personalized customer service available. Add Boomerang as an extra benefit to your company or residential complex today!
Call us at (650) 875-9200 or email us at: info@boomerangdelivers.com
Corporate Services
Our InterCity Metro Cleaners divison delivers the highest quality professional dry cleaning and laundry services for our corporate customers. Visit InterCity Metro Cleaners now!

Walk-in Customers
Our Inter-City Cleaners retail outlets in San Francisco and South San Francisco provide professional level service for our retail customers. Volume discounts available. Visit Inter-City Cleaners now!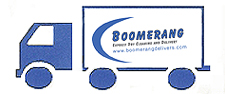 You will love the job we do!